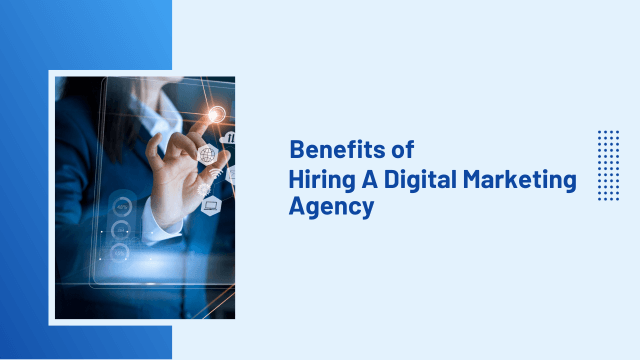 If you are in a situation where you are thinking about contacting and working with a digital marketing agency but are not sure if the cost is right for you, we are glad you are here. It is not an easy decision to spend part of your budget on a company – we get that!
It is a good idea to look at the benefits of hiring a Digital Marketing agency as opposed to the costs to help you make your decision.
5 Benefits of Hiring a Digital Marketing Agency
Here are some of the amazing benefits of choosing to go further.
1. You are always on top of the latest trends.
If you've ever tried to follow trends, search algorithm updates, and new strategies in digital marketing, you know how often it changes. Unless your work is in the digital market, you probably won't just be over it all. It takes time that you do not have!
Apart from this, there are many different aspects of digital marketing like Social media, email marketing, SEO, video, content, paid ads, and so on. The list of strategies is long, and you can't follow the trend in everything.
Additionally, It is the responsibility of the agency and health to stay on top of trends. If we do not know and do the latest and greatest in each digital marketing channel, we will not be at the forefront of our operations or retain our customers. Therefore, part of our time is spent on learning and growth, and industry.
So, the best benefit of hiring a digital agency means you have someone who appreciates the latest and greatest and has used it in your unique strategy. After hiring them you are able to hit the top and get a good marketing strategy.
2. You get an Accountable Person
When we talk about the business then it is a huge responsibility to promote and create a good social image. you have an accountable person means you can call your professional and discuss what's going on with your numbers or inquire about updating your current strategy.
It means you hear your digital marketing agency quickly, you trust them to know and apply the best strategies. Apart from this you just get the general feeling that if you have any kind of marketing issues then they are there for your business.
When you have someone responsible for your digital marketing strategy and the numbers behind it. If you lose smoke in organic searches, for example, it is your agency that has the answer to why it happened.
If a paid ad fails to bring in the customers you thought might bring them in, your agency will be held accountable. In other words, when you have a responsible member, whom you ask about your loss and profit then it is the best benefit of hiring a digital marketing agency.
3. Your Focus is Always on Growth
Having a digital agency as a partner means you can focus on all the most important aspects of growing your business. When you have a shoulder to share the duty then you can multiple your achievements. And the more benefits of hiring a digital marketing agency is you have a team of Experts, Who is an expert in their work.
4. Cost-Effective
There are some amazing tools out there that help digital marketers discover incredibly valuable information about their customers, their search visibility, and their overall performance on the web.
The bad news for you is that it can be very expensive.
When you choose a tool to monitor the visibility of your search engine, you are already throwing too many tools and need another to organize your posts on social media, and another to monitor your online reputation.
Digital agencies often have their budgets for these essential tools, and they will be able to provide you with such information without having to purchase their services. These tools can make or break your marketing ability very effectively.
5. Gains insight
Your business is your child. Whether you built it on a particular idea, bought it from your dad, or got into it by chance, You make all the big decisions, look at everything that happens, and generally keep the business running smoothly.
That can make it difficult to go back and look at your marketing with new eyes.
The agency, however, only learns about your business and views it from an outside perspective: a targeted point of view.
While it can sometimes be difficult to let go and let the agency do the best you can for your business, it is in your best interest to let an expert look at your marketing with a new, completely purposeful perspective.