In the World, WordPress has the largest market share of all the CMS platforms. According to the W3Techs, "WordPress is empowering 63.3% of all CMS-powered websites."
No matter what you want to build with WordPress, there are millions of websites on the internet like your ideas.
That's why creating a unique website is not a handy task. To solve these issues, you can take help from WordPress Development Agencies or a Front end developer expert. They can ensure you customize the web design and give the outcome of your idea. 
But the problem is real, when you have to find a good WordPress Development Company in the bunch of them. This blog explains how you can hire an experienced WordPress developer or leading WordPress development company for you. So, scroll down the Blog to know more about it.
How to Find an Ideal WordPress Development Agencies for Your Business?
WordPress is a powerful open-source program for building blogging, personal, and business space online. Here are the 7 simple steps to explore how to find good WordPress development agencies that meet your requirements.
#1: Define Your Requirements
Before you start your search for a WordPress development agency, it's important to define your requirements. It will help you identify the skills, experience, and services you need from the agency. Some factors to consider when defining your requirements include:
Your budget
Your timeline
Your project scope
Your target audience
Your design preferences
Your technical requirements
By defining your requirements upfront, you'll have a clear idea of what you're looking for in a WordPress development agency.
#2: Research WordPress Development Agencies
Once you have defined your requirements, it's time to start researching WordPress development agencies. There are many ways to find agencies, including Search engines, Freelance platforms, WordPress Directories, and Referrals.
Use search engines like Google to search for WordPress development agencies in your area or around the world. And also freelance platforms like Upwork and Freelancer.com allow you to search for WordPress developers and agencies by location, rating, and other factors. So, you can take help from. When researching WordPress development agencies, consider the following factors:
Their portfolio: Look at the agency's portfolio to see the quality of their work and the types of projects they've worked on in the past.
Their experience: Check how long the agency has been in business and how much experience they have with WordPress development.
Their expertise: Look for agencies that specialize in WordPress development and have experience with the specific services you need, such as theme development or plugin development.
Their team: Check the agency's team members' qualifications, expertise, and experience to ensure they have the necessary skills to deliver your project.
Their communication: Look for agencies that have good communication skills and keep you updated throughout the project.
By researching the WordPress Development agencies, you can get a list of potential and qualified WordPress Development companies.
#3: Check Their Reviews and Testimonials
Reviews and testimonials from previous clients can help you get an idea of the agency's reputation and the quality of its work. Check the agency's website, social media pages, and other review sites like Google My Business, Clutch.co, and Trustpilot for reviews and testimonials. Look for agencies that have positive reviews and testimonials and address any negative reviews or feedback.
#4: Schedule Consultations
Once you've shortlisted a few WordPress development agencies, schedule consultations with them. This will allow you to ask questions, discuss your requirements, and get a feel for the agency's communication and working style. During the consultation, ask the agency about:
Approach to WordPress development
Project management process
Pricing and payment terms
Availability and timeline
Communication and reporting process
Post-launch support and maintenance services
#5: Get Proposals and Compare Them
After the consultations, ask the shortlisted agencies to provide proposals outlining their services, timelines, and pricing. Compare the proposals based on your requirements, the agency's experience and expertise, and their pricing and payment terms. Look for agencies that provide transparent and detailed proposals, have competitive pricing, and can deliver your project within your timeline and budget.
#6: Make Your Decision
Once you've compared the proposals and weighed the pros and cons of each agency, it's time to make your decision. Choose an agency that meets your requirements, has a good reputation, and communicates well. It's also important to choose an agency that you feel comfortable working with and trust to deliver your project.
#7: Sign a Contract
Before you start working with the agency, it's important to sign a contract that outlines the scope of work, the timeline, the pricing, and other terms and conditions. A contract protects both you and the agency and ensures that everyone is on the same page.
Finding a good WordPress development agency requires some research, but it's worth the effort to ensure that you get the best possible results for your project. By defining your requirements, researching agencies, checking their reviews and testimonials, scheduling consultations, comparing proposals, and signing a contract, you can find a reliable and experienced
WordPress development agency that can deliver your project within your budget and timeline.
After reading this you get a detailed Idea about how you can select the best company for your business. After this, here is some leading WordPress development Agencies list who are offering high-quality services all over the world.
Top 10 WordPress Development Agencies in 2023
We take a look at some of the top WordPress Development companies worldwide. Examine their testimonials and portfolios for creating this list of top 10 WordPress Development firms. They create and develop new websites and also find the price-point that matches their client's budgets.
#1: Pixlogix Infotech Pvt. Ltd.
Pixlogix Infotech Pvt. Ltd. is the most innovative and creative WordPress development agency in the world. Until then, they have worked for clients from various countries including the USA, UK, UAE, etc. Since 2007, this company has worked with several industries and has achieved a 99% client satisfaction rate for their projects. Their in-house passionate WordPress developers will provide you with the best website possible.
The motto of this company is to provide aesthetics, execution, and rewarding services for their work. An excellent 96% client retention and over 1,000 international patrons attest to their authority in the industry. Their team of WordPress developers creates code that is well-commented and compliant with specifications to meet the real needs of our customers.
Their portfolio includes all types of websites such as hotel and restaurant websites, real estate websites, e-commerce, entertainment websites, and many other sites. This company is recognized as a leading web development company in India with the ability to deliver Top notch IT solutions to global clients.
Recognition:- Top web Developers Awards by Goodfirms.co and Clutch.
Top Services:- Web & Apps development services, Front End Development, Web design, etc.
Contact:- https://www.pixlogix.com/
#2: Perception System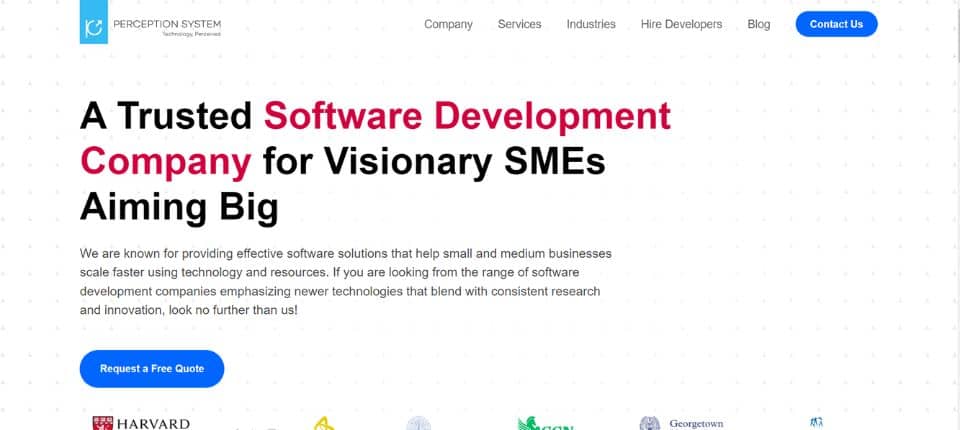 It is a respected WordPress development agency for its good-quality WordPress applications. The strengths of this agency are various WordPress themes, plugins, and customized solutions. It is ideal for your comprehensive web development and web design services.
They will look at the complexity of the website, research the market, target audience, trends and provide you with the exact solution you need while meeting all cost and time constraints.
Recognition:- Consulting partner and top web developers by Clutch.
Top Services:- Web Development, Software Development, Web Design, Mobile App Development, Web Portal Development, Full Stack Development, etc.
Contact:- https://www.perceptionsystem.com/
#3: HTMLPanda
HTMLPanda is known for creating secure websites that are easy to upgrade and perform well. This WordPress website design company is affordable as they only required a 10% deposit to start working on the project. Even they offer a 10% discount for their new customers.
Offers scalable business sites for IT departments; his goal-oriented approach turns challenges into opportunities. They specialize in solutions for different agencies and offer cutting-edge solutions that match the type and goal of agencies. HTMLPanda additionally gives high-satisfactory websites for all varieties of startups.
Recognition:- Top eCOmmerce Development Company in Massachusetts by GoodFirms.co
Top Services:- WordPress migration, WordPress enterprise development, WordPress e-commerce, WordPress up-gradation, responsive theme development, etc.
Contact:- https://www.htmlpanda.com/
#4: Fortunesoft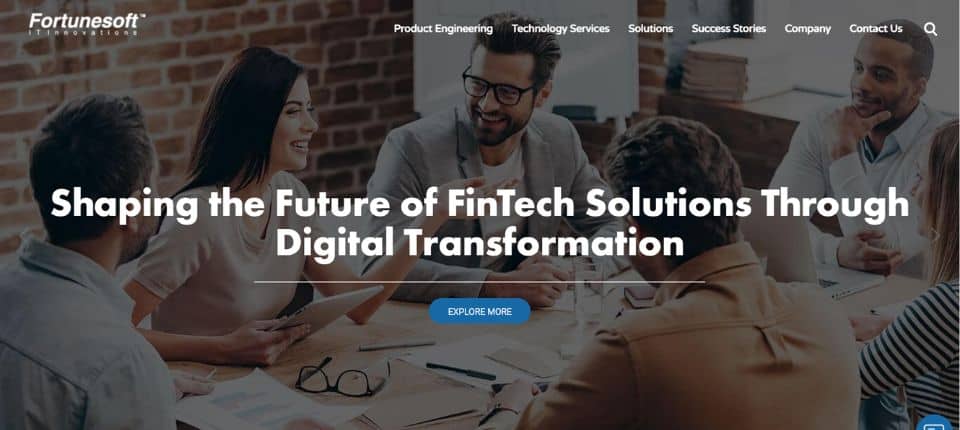 Fortunesoft is the best WordPress development company if you want to build your own WordPress website that is dynamic and responsive. As a leading WordPress web development company, Fortunesoft uses open-source web development to create high-quality sites that will give you an edge for your business in the global market.
Their website is SEO friendly, flexible, engaging, easy to integrate, highly customized, and mobile optimized – which has a maximum number of plugins and widgets. Whether it's a government organization, an enterprise, a startup, or a small organization, Fortunesoft always comes up with a secure, scalable, robust, dynamic, and professional website.
Recognition:- Top ecommerce Software by GoodFirms, Top Software developers and Mobile App Developers by Clutch.
Top Services:- Software development, Full Stack Development, UX/UI design, Blockchain, AI DevOps and so on.
Contact:- https://www.fortunesoftit.com/
#5: Sparx IT solutions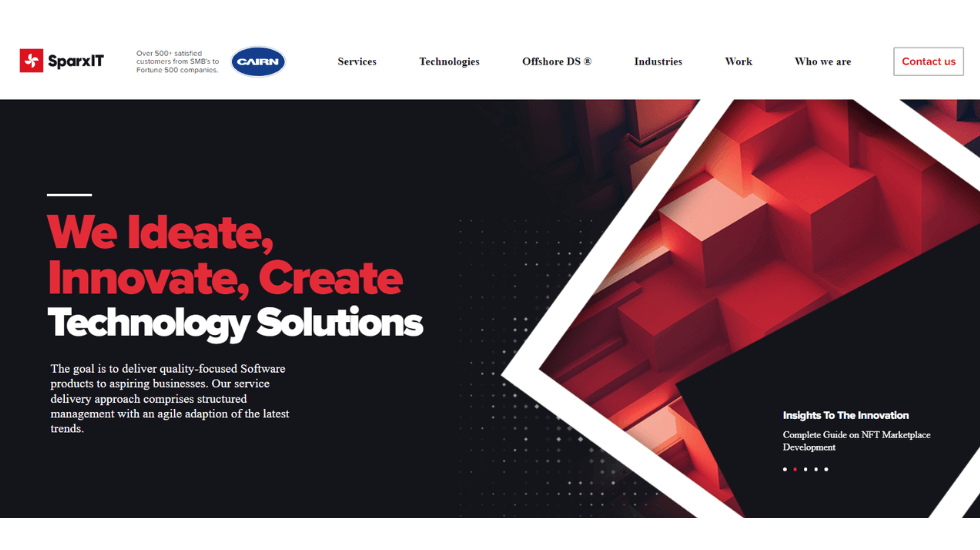 As a top custom WordPress development company, Sparx IT Solutions offer fast and secure web development services that will attract clients to your website. From conceptualization to the development and deployment of plugins with API integration, you get full support from them at all stages of your partnership.
Their goal is to create easy-to-manage and engaging websites that have a positive impact on your business. They take care of security, maintenance, responsiveness, upgrade, migration, and other aspects of website development for you. Their portfolio includes various categories and provides a wide range of services to suit all your unique requirements and positions.
Recognition:- Top App Developers in India by Clutch, Top Blockchain Development Companies in USA, Most Trusted Android App Development Companies by Yourstory.
Top Services:- CMS development, plugin development, eCommerce solutions, payment solutions, bug fixes, and other service areas.
Contact:- https://www.sparxitsolutions.com/
#6: WebDevStudios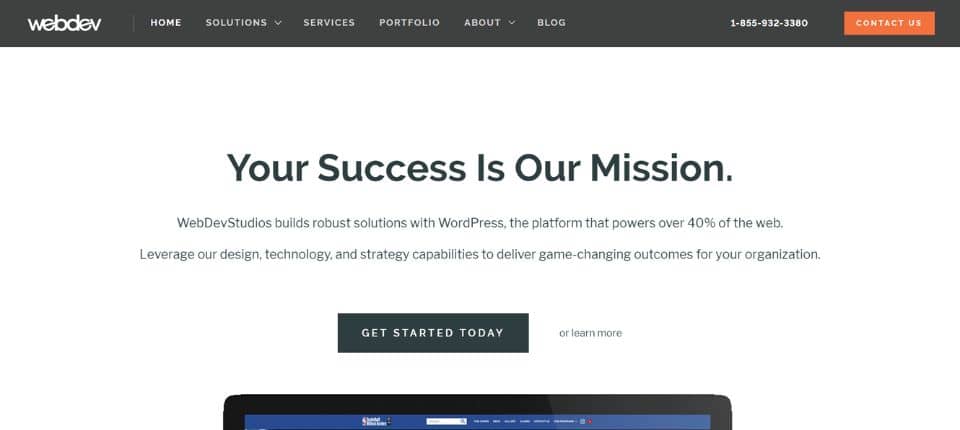 WebDevStudios is the best WordPress development company. From strategy, and planning to website development and maintenance, WebDevStudios provides you with all-around support, no matter what stage your website development is at. They offer full data migration, scalability, extensive API integrations, performance, and long-term maintenance.
From startups to enterprises and marketing agencies, they have service options for all kinds of businesses regardless of size and niche. They provide creative yet affordable solutions that appeal to all types of businesses that are actively looking for sites designed for business growth.
Top Services:- custom development, design, eCommerce, and more.
Contact:- https://webdevstudios.com/
#7: Devrix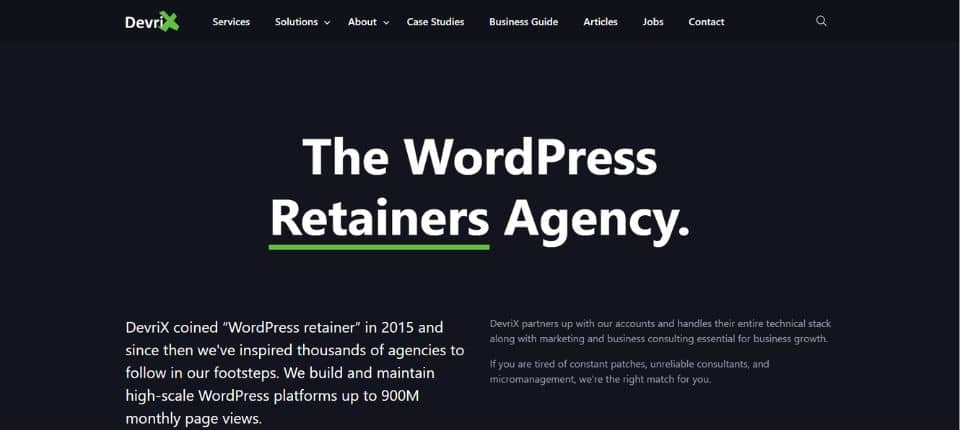 Devrix is a leading e-commerce and web development company that delivers industry-leading IT solutions to startups and small, medium, and enterprise businesses worldwide.
Devrix is one of the other leading web development companies in India with the ability to deliver high-quality IT solutions to global clients. They are here to support you in your business long-term, even long after your website is launched, so you can both get the most out of the partnership.
Recognition:- Top B2B Companies in Eastern Europe By Clutch.
Top Services:- Back end development, Front-end development, Business consultant, etc.
Contact Details:- https://devrix.com/
#8: IceCube Digital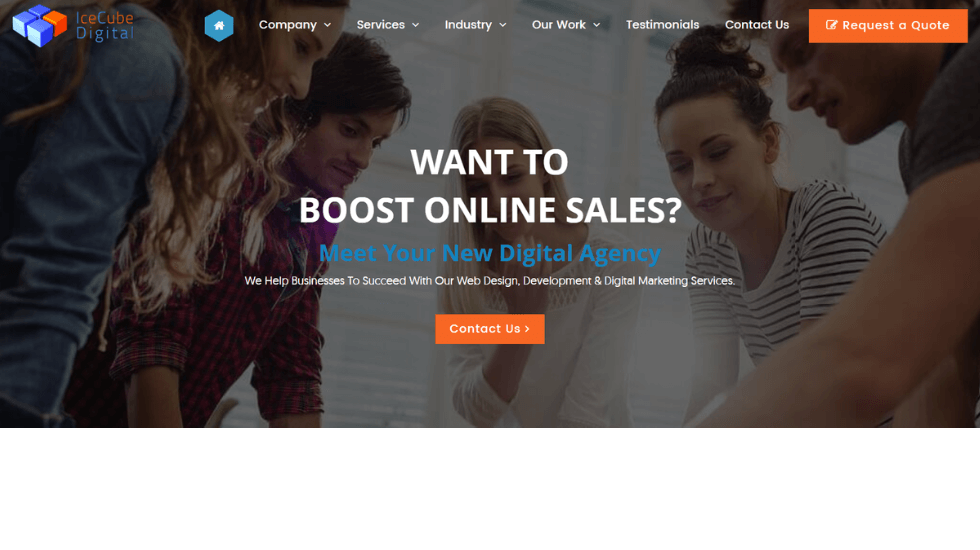 IceCube Digital has so many industrial projects in its portfolio. As a top WordPress web developer, he takes advantage of the power, scalability, and flexibility of the WordPress platforms. And they create the best and most customized solutions for your business needs, according to your unique market, services, and target audience.
Their passionate team members ensure that your website has a clean and attractive appearance and can generate revenue for your business. Their WordPress developers and professional SEO experts will also optimize your site to meet your specific business goals.
IceCube Digital has over nine years of experience in the industry and has built a loyal customer base. Customer support is a core value of their business. This US-based company provides end-to-end solutions for all your specific business sales support needs.
Recognition:- Magento Certified Developer, verified WooCommerce Expert, Official Shopify experts, top Web Developers Awards by GoodFirms and Expertise.com.
Top Services:- Magento Development, WordPress Development, Hire dedicated WordPress developers, WordPress SEO service, WordPress maintenance service, etc.
Contact:- https://www.icecubedigital.com/
Let's Wrap up
There are several WordPress development businesses, to put it briefly. Finding the best from this, though, is a difficult task. However, if you pay close attention, you can quickly identify the ideal web design agency for your website's needs.