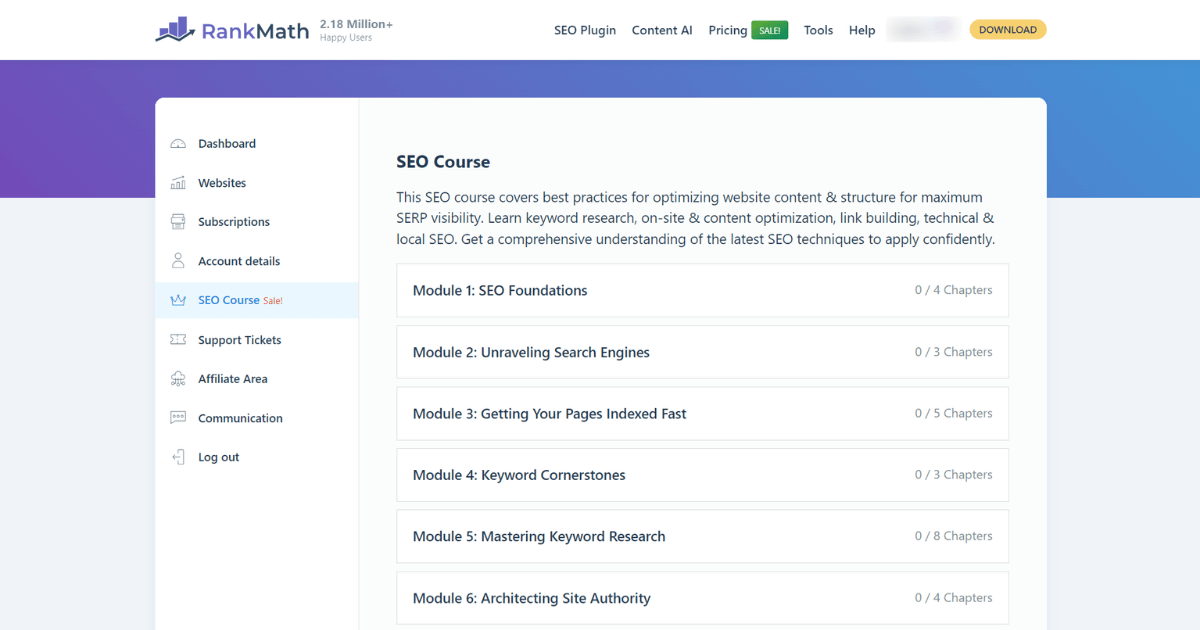 A Guide to Rank Math SEO Course
Hello Folks, are you looking for an SEO course that will resolve all your doubts and give you a clear path to kick-start your SEO journey? You meant to be here. 
In the digital age, visibility is everything. Every website, blog, and online store competes for the top spot on Search Engine results because getting SEO right translates to more traffic, higher engagement, and ultimately, increased revenue. 
If you are a beginner or business owner who wants to solve all the confusion about SEO and boost your business to get business, give your few minutes to read this blog. 
In 2023, the top-ranked website will get 39.8% CTR rates; that means whether 1000 people are searching for the services or product you are offering, the top website will get 398 website visitors. And The more visitors the website gets the chances of getting the sales increase. But getting top ranking is a hard nut to crack. You need to focus on many factors including On-page, Technical SEO, and Off Page SEO to enhance your website ranking of SERPs. 
Also one more things the problem is that the internet is flooded with SEO advice, tips, and tricks, and as a beginner, you may find them overwhelming, confusing, contradictory, or worse, some of the advice is outdated, and you'll follow them anyway because you don't know if it is right or not. 
If you are a non-techie person, looking for a guide to understand the process of SEO to enhance your blogging website. So, I searched for many free and paid tutorials to understand the complexity of the SEO process and optimize my website to do some real business on the internet. Honestly, the technical terms of many course are the things that go over many people's heads. 
Overview Rank Math SEO Course
Enter the Rank Math's SEO Course. It is not just one of the leading WordPress SEO plugins. It is also a partner in your SEO journey, and it has tailored a learning platform especially for you. From the basics of SEO, understanding keywords and their search intent to keyword research, learning about creating content that captivates, connects and drives sales, and on-page SEO to more advanced stuff like link building, technical SEO, off-page SEO, and a lot of tidbits you can't find anywhere else.
I saw this SEO tutorial by Jack Cao from Rank Math. Now, I am thrilled to save my money and DIY to get a good ranking on SERPs. 
Anything you can think of in terms of SEO will be covered. Unlike many SEO courses out there, it will always keep the course materials fresh by uploading at least one new video a month on top of always updating the current content to enhance your learning experience.
In the course, Jack taught all the concepts in a very simple and practical way. I learn lots of new stuff that not only saves me the cost of hiring an SEO expert but also gives me a clear idea about how to enhance your business with free tools. 
This SEO Course Includes:
In present, in the course right now added few courses –
1. SEO Foundations
Introduction
Course Outline
Anatomy of Web Address
Setting Up WordPress Website
2. Unraveling Search Engines
How Search Engines Work
What is SEO
Understanding SERP
3. Getting Your Pages Indexed Fast
Setting Up Your Site for SEO (GSC & XML Sitemap)
Getting Your Pages Index Faster
4. Keyword Cornerstones
Intro to Keywords
Keywords Anatomy
Understanding Search Intent
5. Mastering Keyword Research
Intro to Keyword Research
Keyword Research Metrics and Jargons
Keyword Research Spreadsheet
Generating Keyword Ideas
6. Architecting Site Authority
Introduction to Site Structure & Authority
What is a Silo Structure
Content Hub: Hub & Spokes Model
Topic Gateway
And that's not all! As part of their community, you get access to experts where you can ask dire SEO questions related to your business, and they will tailor the best advice to solve your problem.
So no more sifting through a sea of unvetted advice that might or might not work. So are you ready to embark on this journey to SEO success? Join us at Rank Math's SEO course, because together, we don't just navigate search, we conquer it!
Our Team Opinion:- 
In the course, keyword research explanation helped to understand the visitors and grow business online. Also taught tips and facts that can save businesses from getting a bad impression on Google. 
For the site structure part, I like to learn more about that and also how to optimize an active site structure. If the course adds these points, it will be great for website owners who are seeking an SEO course to enhance their website traffic.
However, we highly recommend this course to all those website owners or SEO beginners looking for an SEO guide to understand the whole process to solve the puzzle of SERP and enhance their online presence.